We keep school very light in the summer ...at least it appears that way! This year our theme for science over the summer is "In My Neighborhood". We are journaling the plants, animals, lifecycles, the food web, in our neighborhood. I am keeping track loosely of what we do on another blog . The kids are keeping track in homemade nature journals. They will also be learning and refining their photograpy skills. I wanted to share this because science is so easy to teach hands on. With a little planning you can really learn alot in the science scope without using a text book or leaving your neighborhood.
http://sierradreamersci.blogspot.com/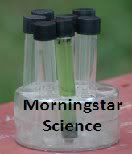 This blog ( morningstar science) is changing daily. Please check back often to see what treasures we have found in our neighborhood.