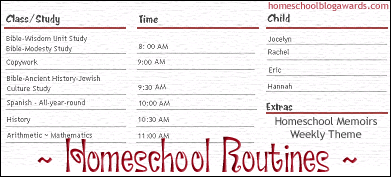 Our routine is simple most days.
I get up at 530 am.
5:30 - 640 I do bible study, email, blog
640 - 7am I watch my neighbors kids and make sure they get on their school bus.
7am - 730 unload dishwasher, start laundry, take dog out, plan dinner, finish devotions.
730 - 830 everyone else is up , breakfast , chores ect.
830 - 900 free time if chores are done.
9 - 12 School with mom
We do Bible, History, Science, Geography, Art, and Sign Language.
12 -1pm Lunch Break
1- 3 gals work on their own. Math, English, Vocabulary, Chinese or French, Lapbooks, Reading, Piano, Voice, Crafts.
3 -5 is generally free time. We go to the park, walk the dog, ect.
Dinner varies. Most days it is at 530. I try to have all the prep done by 3 and table set ect. So the afternoon is free to be creative and peaceful. I plan easy meals M through F. The focus is to enjoy the family at meal time and not be frazzled by the prep of dinner. I am a firm believer in paper plates on days we have to be out the door right after dinner.
Our schedule is not set in stone. Some days I have to go out in the morning to work. Other days we have a fieldtrip planned. So we filp the schedule or we do it on Saturday as needed. I try to allow for creative free time for the girls to learn new things. Currently my 12 year old is learning counted cross stitch and reading up a storm. My 14 year old just likes time to be alone in her room with her music. She is learning to use her voice.
Our 17 yob works a day job and his school day starts at 4pm. He generally does one subject before dinner. Takes a long break and finishes up the rest by 8pm. It works for him and he seems to be doing fine. He spends lots of time on the guitar and is a very talented player.