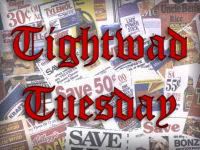 New favorite Crockpot Recipe...
I came up with this one on my own though I am sure it is not new! The key to recipes like this is making sure you have leftovers in stock. I also keep cream soups on hand in the fall and winter. They are usually on sale in the summer so I stock up. Be flexible to add to a recipe what you may have in the pantry.
4 cups leftover cooked chicken, I often cook extra so I can put it in the freezer for later, I freeze it in 2 cup servings in ziplock bags. You do not have to have it completely defrosted to use in the crockpot.
2 cans cream soup. We like chicken. Generic works just as well as the name brand. Be careful though as some have lots of MSG. I bought a new variety of generic only to find we cannot use it! I am allergic to MSG.
1 cup salsa of any kind. We buy number 10 cans and divide and freeze it.
1 small can of green chillies drained.
1 cup sour cream. I was out so I used canned milk. It worked fine.
Mix the above together in a large bowl.
Tortilla Chips. We buy very large bags at discount. So for us this is cheap.
Oil the bottom of the crockpot lightly.
Put a layer of chips on the bottom then layer with chicken mixture, You should end up with four layers ending in chips. I crunch the chips up. Cook on Low for 4 hours. Top with cheese. Cheddar is fine. Jack would be awesome! Cook 20 minutes more.
Serve with a Salad, cornbread, and more chips!
The reason this fits as a Tightwad Recipe is because you are using leftover meat and what ever you can from the pantry. It is a meal that can be put together in minutes by anyone ( like the kids!) on a busy day at lunch time. Thus keeping you from going out at dinnertime! Your house will smell wonderful.