From the Heart: I love this time of year! Makes my heart sing. Cool mornings, birds singing, flowers blooming, kids almost done with school, lots of activity out of the house. This is the time of year I wait for all winter long! It refreshes the soul.
Spiritual Growth: Finding lots of quiet moments but still behind in reading the bible. I need to just get up earlier. This is a habit I tend to fall out of in the winter. Now that it is light early it will be easier to get out of bed early! Working in the garden provides so much time alone with the Lord. I love it!
On the Homefront: For now the electrical is done. We will finish the upstairs when our oldest moves out in July. Cleaned out and organized the food pantry. Was able to keep up with the bathrooms this week. ( trying zone cleaning) This coming weeks project in the house will be my bedroom, the kitchen sideboard, and the school shelve.
In the School Room: Gals are nearly done!!!! Next week is our last week at the art museum for drawing. We plan to attend as many special exhibs as they have over the summer. I am planning next year and now have a sketch of sorts on paper. I know we need to do American History 1865 to present. Looking for a creative hands on way to do this without a text book. Will share more as this becomes more concrete. For Science I the oldest is doing Biology. The youngest will be doing some of the biology, an indepth study of birds and ??? ( not yet determined).
In the Literary Scene: Just the biology text at the moment.
On the Mission Field: We had a great time out on the street this week. The food pantry was blessed with about 1100lbs of free food again this week . We were very busy picking it up and putting it away.
On the creative side: Gardening! Nothing but gardening! Working on cleaning last years gourds and getting them ready for crafting. I promise more step by step photos. This is our first one. We did it at the kitchen sink...not adviseable! I have since moved outside. It is a messy job with lots of elbow grease involved.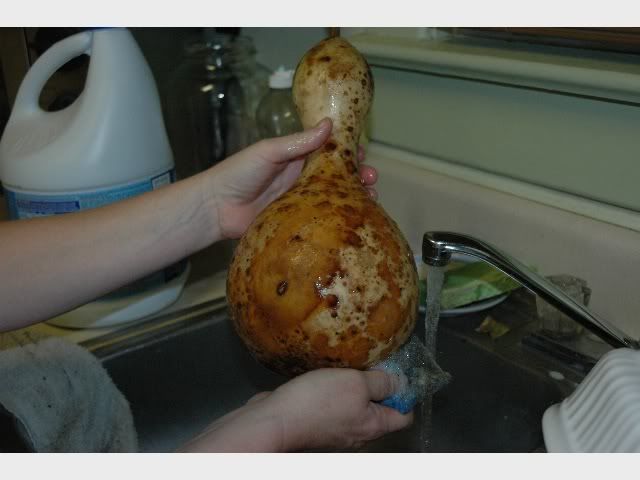 Tightwad Living: Planting the garden from seed. I would love to do what most of my neighbors do and buy plants already in bloom and have an instant beautiful garden. But that is just not affordable! The kids have been giving me seeds at every possible holiday all year long. I also gather seeds from friends and neighbors. I have a huge stock. I bought a sweet basil plant yesterday ( just one little plant). It was a buck fifty! I could have gotton a pack of seeds for that!
Free Frestivals. We go whenever we can to free fruit frestivals, art shows ( we have alot of shows in the park, on the beach etc) You need to plan ahead, pack a lunch, ( don't give in to the wonderful vender foods!). Enjoy the culture! This week we went to the Strawberry Festival. Great parade, craft vendors of all kinds, livestock, and of course strawberries! I really enjoyed all the craft booths.
In the Garden; Our small new flower garden has become much bigger! Still digging and preparing the soil. Pulled tree sprouts from exhisting gardens, transplanted some and tossed some. I am planning a rose garden for the sunny side of the house. This will probably not happen for a year but just planning it and preparing is fun! I love roses. My favorites are yellow, white and pink old fashioned ones. The ones that smell like purfume.
Here is the new garden plot. It is 32 feet long by 10ish feet wide. This plot will be giant sunflowers, and other sunflowers of various sizes ( along the fence), wildflowers, poppies, zinnias, sweet william, and cleome. The kids like to get seeds for me. I get them in cards for all the holidays. Eventually this will be a shade garden as we have planted trees on the other side of the fence this year. This garden will also have a Maple sappling in it. Many years ago our home had 11 trees on the lot. Big ones! Someone cut them down. Trees help to shade the house keeping it much cooler in the summer.
Lifestyle Change Progress Lots of movement this week. Some walking, lots of digging in the garden, mowing the lawn, and packing out cans of food is more than enough for me this week! I am down 1 lb. More important I am firming up. Its such a slow process. I am praying I can stay the journey! I am so disappointed with the extra skin that happens from being fat. I guess that is my reminder of just how heavy I was. Not going back there!
Here I am 12 months ago at 163lbs. Size Large /16/baggy! I knew I had to do something when the size I was in was getting snug ( pants) and I was no longer able to find anything in my closet to fit for church. I just could not go up another size.
Here I am this month at 121 lbs ( my average weight in a week) Size Small/6/8 no more baggy stuff! I actually enjoy snug fitting clothes once again.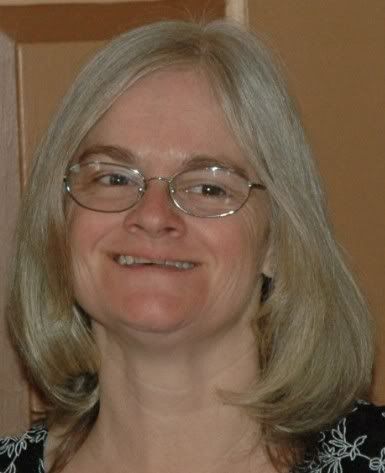 In the Kitchen Keeping it as simple as possible in this busy season. This past week we used up alot of what we had on hand. So the menu may seem somewhat boring...but switching up the side dishes or preparing the meal a different way helps.I am also letting the gals cook as much as they want so I need to keep it easy for them. They love cooking italian dishes at the moment. I have lots of leftover yoghurt so may do yoghurt cheese this week. It is a nice soft cheese that can be flavored. Here is a very simple info sheet on how to make yoghurt cheese. http://www.dannon.com/pdf/yogurtCheese.pdf
Here is a photo of last weeks project: Homemade granola. Its out of focus. This is what it looks like before it goes in the oven.
That is our wrap-up for the week! Hope you all have a blessed week.