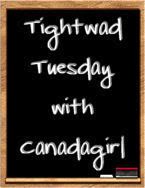 Our youngest is now a teen. No more "kids" in the house. Each birthday is a milestone but none so important as becoming a teen.
As a tightwad tip: We are on a very limited income. Birthdays often come when there is literally no cash on hand. Look for ways to make the birthday special without spending what you do not have. Here is what we did:
Saved a gift card someone had given us earlier in the year for this date.
Coordinated with the other family members on the gifts. My older kids work. They can buy gifts or add to our gift to make it special. She was able to get two pair of converse shoes because her brother bought the second pair. It was buy one pair get the second half off.
Shop at the thrift store. We found her a brand new, tags still attached, purse that she loves. It cost me a dollar! She also collects Chinese style vases and boxes. We found one she loves for 25 cents.
Saved free movie tickets and meal ticket for his date.
Made our own party banner and decorations.
Made special breakfast and dinner at home.
Made our own cake. It is tradition in our house for the kids to make their own cakes. They love doing this.
Its not what you spend but how you make the day special for the birthday gal or guy.