As I looked at my photos this week and thought of the awesome amount of time it was going to take and the amount of money ( ink, photo paper, a few cute scrapbooking supplies, and photo books) I realized that this needs to be a year long project. I set some goals ( thanks to those of you who helped with ideas)


Make a notebook with a list of unpublished photos, and a list of photos in the boxes. This way I will know how many books to create! Or how many photo boxes to use. This way I can check stuff off as I do it.


Print off 30 photos a month. Gee that is doable as it is only one photo per day.


Decide if: I want to put the photos in books or photo boxes??????


Start with oldest sons keepsake book.


Plan a keepsake book for the other 3 kids.


Finish the California book.


I am leaning toward photo boxes. At least with the boxes things will be presentable and in order. Then maybe over the years I can tackle one box at a time.
These boxes hold 1000 photos. I found them on line for 4.95 each. I am looking to see if I can find them locally near that price. ( the shipping is steep)
So I have a plan! That is all the farther I got this week.
I took time to pray and seek the Lord for wisdom concering my home. He showed me another area that needs attention in our home.
My dear daughters quilt. I started with a bang...worked hard on it for months and then put it away in a closet. There it sits. So gals this is my next project. DD has given me till she turns 16 to finish it. I realize a year has come and gone and I have only 2 years left! It is a catherdal window so it is time consuming. My goals for the quilt are:


get all the frames done by December


Get all the windows in the frames by April


Sew all finished frames together by the end of May


This quilt is done 50 percent by hand sewing. It is time consuming. So I think my goals may be reasonable.
Here are examples of Catherdral Windows:
http://www.quiltmag.com/proj-tips-cathedral.php
Here is where I am with her quilt: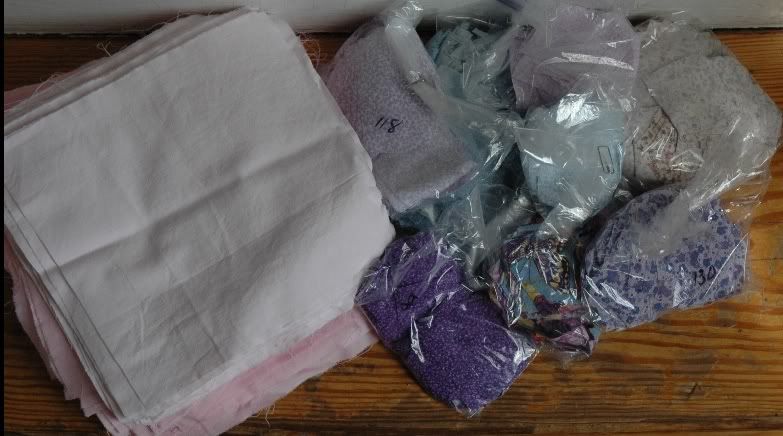 That pile of fabric represents 1030 2 inch squares and about 1/2 the block squares needed for the frames. I am using all used fabric or thrift store finds so it is taking longer to find what I need for the frames. The 2 inch squares are all from fabric my dd used as she was learning to sew over the years.