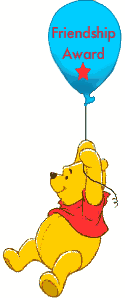 For Canada Girl!!!!!!!!!!!!!!
I made this award because I have made some really special friends here on HSB. Friends who care, share, and dare to be honest! I want to pass this on to one very special friend who really blesses me. Mary at http://www.homeschoolblogger.com/Canadagirl/ Mary is an encourager, a "sister", a hug when you need one, a best friend, a strong women of God.
I am only passing this on to one ( though I have so many). Keep Pooh in the air and pass this along to a friend who makes a difference in your life! Tag backs allowed! Share a hug!