Happy First Day of Fall!
I love every season in the garden. There is always something special happening. This week we got to witness a Black and Yellow Garden Spider (Argiope aurantia) in action with a Black Swallowtail Butterfly. While it was sad to see the beautiful butterfly become dinner for the spider it was a fabulous opportunity to see the lifecycle in action. The butterfly was laying eggs on newly sprouted Queen Annes Lace plants. It was awesome to see her at work. Then all the sudden she flew straight into a large spider web. The spider was so fast! It was amazing!
Our garden now looks quite dead but I wait till it is very cold to clear it out as there are many animals still living in it. The birds also find it a haven of scattered seed and shelter.
Black and Yellow Garden Spider
I am fascinated by these "writing" spiders. We are always very careful to not disturb the web. Spiders are very beneficial.
http://entomology.uark.edu/museum/argiope.html
http://wihort.uwex.edu/landscape/GardenSpiders.htm
Black Swallowtail Butterfly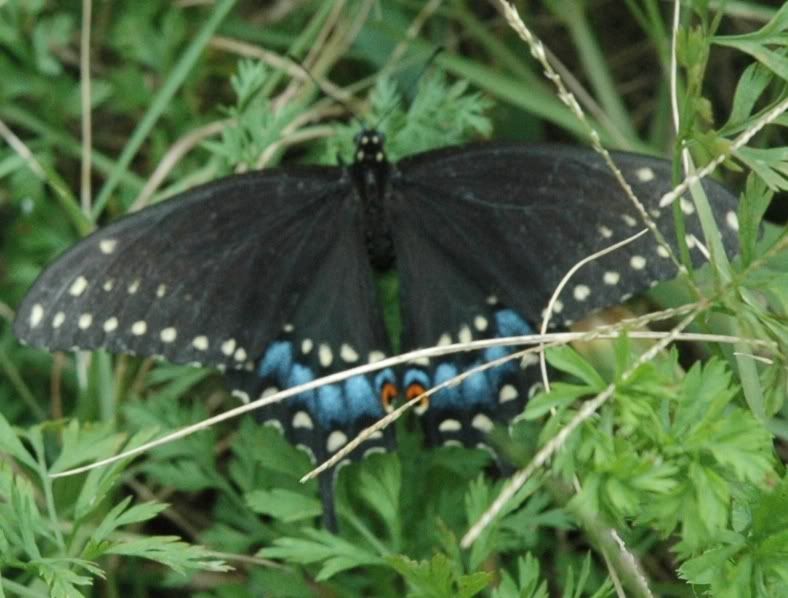 We love these butterflies and planted our garden to cater to their diet and lifecycle needs.
http://www.pbase.com/rcm1840/lifecycleofblsw
http://www.naba.org/chapters/nabambc/construct-species-page.asp?sp=Papilio-polyxenes
We also have a quite a few birds visiting the yard. I leave weeds with berries and seeds growing as the birds love them.
The gourds are growing so well! I think it is safe to say we will have a good crop! What do you do with a gourd? I cannot wait to try some crafts and birdhouses with them.
http://www.amishgourds.com/site/1278922/page/456668
http://www.gitaland.com/tutorials/tutivy.html