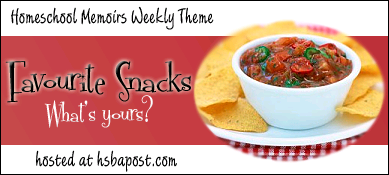 This week we are suppose to share what our family likes for snacks. Our kids are all older so we really do not have a "snack" time. But we do like to once in a while in the afternoon if dinner is going to be later than usual.
Here are our favorites for snack or desert.
Quick Breads such as pumpkin, banana, peach, and apple.
Nachos with any variety of items on them.
Cheese and Crackers.
Homemade Popcorn ( we don't do microwave popcorn)
Puppy Chow ( Corn Cereal mix with yummy stuff)
Cookies ( usually homemade) Oatmeal and PNButter are our favorites.
Leftovers. Usually tortilla with what ever is in the fridg.
If all else fails a PBJ.
Well thats about it!