From the Heart: I have spent a great deal of time this week focusing on domestic encouragement...not just for me but for others as well. Its an honor to keep a home and do it joyfully. The below poem is from http://www.achristianhome.org/
Beatitudes For Homemakers
by Ella May Miller
*Blessed is she whose daily tasks are a work of love; for her willing hands
and happy heart transform duty into joyous service to all her family and God.
*Blessed is she who opens the door to welcome both stranger and well-loved friends;
for gracious hospitality is a test of brotherly love.
*Blessed is she who meads both stockings and broken toys and broken hearts;
for her understanding is a balm to her husband and children.
*Blessed is she who scours and scrubs; for well she knows that cleanliness is one expression of godliness.
*Blessed is she whom children love; for the love of a child is of greater value than fortune or fame.
*Blessed is she who sings in her work; for music lightens the heaviest load and brightens the dullest chore.
*Blessed is she who dusts away doubt and fear and sweeps all the cobwebs of confusion;
for her faith will triumph over all adversity.
*Blessed is she who serves laughter and smiles with every meal;
for her cheerfulness is an aid to mental and physical digestion.
*Blessed is she who introduces Jesus Christ to her children;
for Godly sons and daughters shall be her reward.
*Blessed is she who preserves the sacredness of the Christian home;
for hers is a divine trust that crowns her with dignity
On the Missionary Field:
Our people must learn to do good by meeting the urgent needs of others; then they will not be unproductive.Titus 3:14, NLT This verse is a good reminder to me that we are doing what the Lord wants us to do. At times the work load seems heavy. But there is nothing in the bible that says doing His work is a light and easy load. Just that He makes our load light....
We pondered this week why people just choose to sit all day and "be" on the street. True some are captive to drugs, alcohol, and mental illness...but others seem okay with just exhisting in the street community.
Still others are working. They stay in hotels from time to time but are on the streets more than not.
We were blessed twice this week with free food. Total of about 4000 lbs canned goods. I am always amazed at Gods provision.
Around the House: There is hair everywhere. Five lovely felines and one large canine. I discussed it with them the other day and told them I would prefer thay all shed on schedule...one time each year and be done with it! Made sense to me! Needless to say this time of year finds me sweeping 3 times a day. I did not do well in keeping up as I had a flu bug the latter half of the week that sent me to bed for a whole day.
We got new to us bookshelves. I am now in the process of organizing all of them! We now have enough to do all of school in one shelf, old collectables in another ect. It will be nice to be organized!
We had / have snow! This is the most snow we have had in 10 years. It is very pretty. As usual everything has stopped. this part of the country is just not equipped to handle lots of snow. Our city got 8 inches.
It snowed on hubbys birthday! We had a wonderful dinner out and family time at home. The gals did a theme gift and made a movie time basket. ( movies, popcorn, candy,)
In the School Room: Geography is done! Gave the gals friday off. They have colds and just felt they needed to have a day of rest.
On the bookshelf: Reading Answering the Call to Evangelism by Jack W Hayford
In the Kitchen: Steak on the BBQ, Spaghetti, Taco/Nachos, BBQ Baked Chicken Wings, Pork Chops, Dinner out for Hubbys BDay, Planning ahead has helped me to keep a good dinner on the table each night despite distrations and illness.
On the Creative Side: Finished this! ( the black one) The blue is Ems pencil bag. I think she did a great job!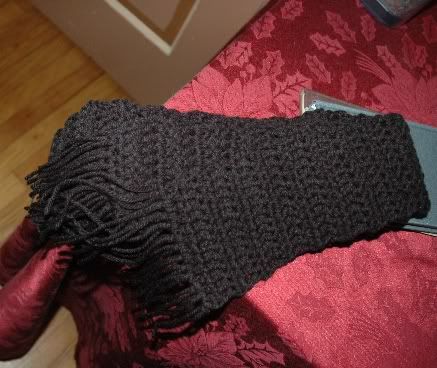 Thrifty Finds: Gifts!!! While looking for something special for hubbys birthday this week I found treasures! One is a fabulous gift still in the box, never been opened. ( can't share what it is as it is a gift) Paid $3.00. Value $29.95! Its going in the birthday box for DD. Find number 2 was a whopping 12.5 cents! Clothes were half price so if it was a quarter that makes it 12.5 cents. ( of course we bought another piece of clothing for 12.5 cents) I love these new to me slipper socks. The orginal price is $14.95. ( had a picture but it cannot be found! They are knit slippers with leather bottoms)
Thrifty Find number two is a whole bunch of stuff from a school that is closing. All the stuff was free for the taking.We got beautiful old oak chairs, bookshelves, books ( lots), science kits and videos, office supplies,computer stuff and some stuff I don't even know what it is! We will probably not keep all the books. But finding complete instructions kits that have never been opened ( biology, alg 1 and 2, and business math) is too good to pass up. Yes that is part of a classroom skeleton in the book shelf!
FREE!
Other free finds this week were 2 1920 oak office chairs, 1 1920 oak office swival chair, and 1 smaller oak swival chair ( older), and a side table or record holder. These were being thrown away and we just happened to drive by as the guy was placing them on the street. The chairs cleaned up very nicely. Both daughters claimed them for their desk! They are very comfortable. The smaller chair is a Zimmerli and we have been unable to find info on it. But given most of the furniture was 1920 we figure it is at least 1920. The table is damaged but can be repaired and makes a great addition to our living room. It appears to be made of cherry wood.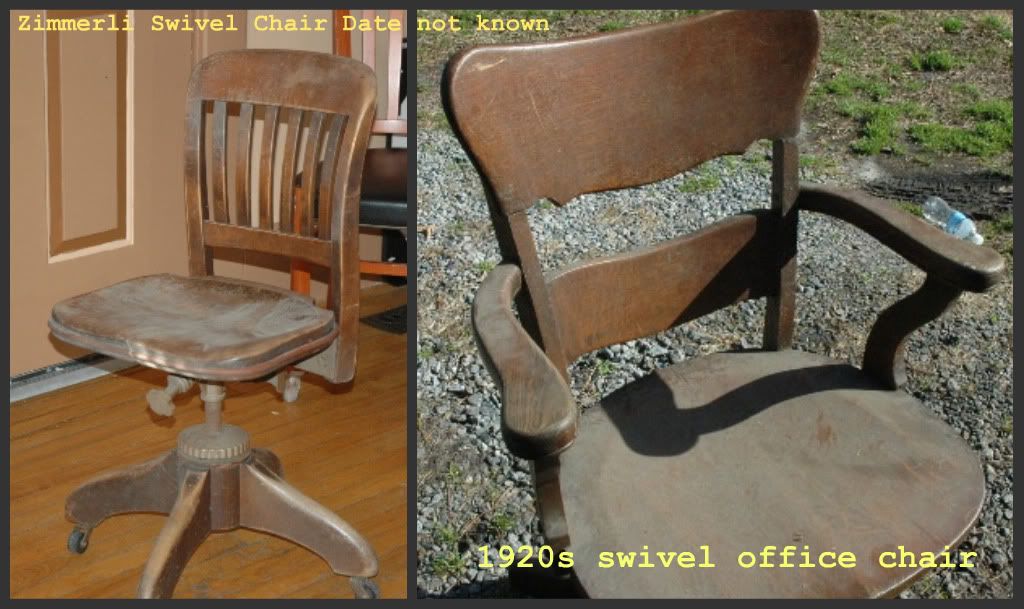 These two oak chairs ( below) cleaned up nicely. They mimic the 1950s chair found in the school but are from the 1920s. They weigh much more and are more comfortable.
Christmas and Birthday Boxes: By the end of the month I am happy to say I reached and surpassed my goal of one homemade gift and one person taken care of for Christmas. I actually have 2 people on the list taken care of for Christmas and two Birthday gifts!