From The Heart; I really pushed to make quiet time a priority each day this week. Such a blessing! I feel well watered.
On The Missionary Field: We are offically on the board for a new missionary endevor in Panama. No we are not moving. This is just all part of what we consider training. Its exciting! I am sure you will hear more about this in the future.
The homeless ministry is still the same...and I think this is why its hard to get folks ot volunteer on a steady basis. We do the same thing each week: pray with folks, give out snacks and soup. Hand out clothes and personal items when we have them. There is so much brokeness in these folks. It seems their lives do not change but I know their hearts do and I know we make a difference just by caring.
Around the House: Lots of spring cleaning. Decluttering and I did get some of the kitchen scrubbed. ( on last weeks to do list!)
In the School Room: School is generally done by noon from this point forward. I love this! Spring is on its way and we can be out the door on fieldtrips, walks, or just enjoying our yard.
The gals will be doing Shakespears Much Ado About Nothing ( both the book and the movie) since they finished American Literature early. I am thinking we will get most of British Lit done before next year.
On the Book Shelf: Max Lucado's Cure for the Common Life ( fabulous book), and Derek Prince's Entering the Presence of God. ( slower read but meaty) and Rick Warren's The Purpose of Christmas. I love this little book. AND T.D. Jakes Not Easily Broken. I do not read all these books at once but have them in different spots in the house and read snippits throughout the day. I keep a notebook for the bible study type books and take notes. I do plan to get the movie Not Easily Broken. http://aalbc.com/reviews/not_easily_broken.htm
This week we watched Faith Like Potatoes. We got the movie a long while back and had viewed it once. Its a slow movie but full of faith building truths. Based on true facts. I do plan to get the book. http://en.wikipedia.org/wiki/Faith_Like_Potatoes
In the Kitchen:KFC and all the fixins, Mac and Cheese and hot dogs, leftovers, pulled pork, pizza, meatloaf, ribs. Still using most of the stuff out of the big freezer and trying to use it all up!
On the Creative Side: Still making gifts...but its staying lighter longer and should be warmer soon so this will most likely come to an end! ( although I hope not!). I have learned that I love crocheting much more than knitting. I am learning to read patterns better but still like doing my own thing.I made my first cup cozy! I just love this! It was so fun to make. I found the cup at the thrift store for 48 cents. Turns out its a collecters cup worth $5.00. ( okay so that is not a stellar amount but the cup is adorable) The cozy looks big in this photo but it fits nicely.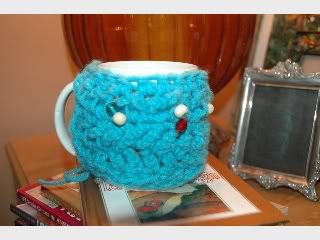 These scarves were fun to make as well. The first one is made with super soft fuzzy yarn.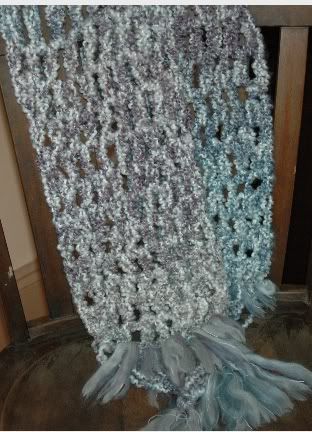 Christmas and Birthday Boxes; Four more gifts in the box. ( all the stocking stuffers are done!)
Thrifty Finds: This was library book sale week! Lots of wonderful books! I also found a nice gift at the thrift store for 98 cents. DD found great buys at Plato's Closet. This is a consignment shop that caters to teens. http://www.platoscloset.com/how_it_works.html
Goals for the Week: Finish two books, deep clean the foyer, ( this is where the fireplace is), find room for all the books! Map out gifts to be made in March. Start yard clean up. ( Spring is nearly here!)