From the Heart
This week was suppose to be our spring break...well it was. But it really did not feel like a break. I am longing to do something different and get away from it all. Even if just for a day. It was nice to not do school this week. Although I think the gals did lots of "school".
Around the House: Its messy! We are sewing so the maching, ironing board and such are all out and taking up space. Maybe someday we will have a room dedicated to sewing/crafts.
We had a backed up sewer this week. YUCK. My husband is a jack of all trades and had everything flowing within a day. Seems we have a problem with tree roots.
The grass is growing rapidly...yard is screaming for attention. Hopefully the rain will stop soon and we can get it mowed. We did get some of the winter clutter cleaned up when we did an hour long blitz. So many pinecones this year!
Our Learning This Week: The gals spent several hours with us as we looked for a car. I would say that is educational! We were not sucessful this week in finding what we need but we sure learned a lot about used car lots, sales people, honesty and dishonesty! We had planned a trip to visit our son and deliver a new to him car. We are hoping to find one soon. It was interesting listening to the girls discuss what options their older brother should have in a car!
They both enjoyed washing and vacuuming our car and our son's car. It takes a lot of work to make these old cars shine and they did a great job.
My youngest daughter is learning how to put in a zipper ....challenging for all of us! Hopefully we will get the zipper thing down and she can proceed with making the dress. Several years ago I was given a very large bag of old zippers still in their packages. This is now coming in handy. She is practicing a lot. She is also learning how to fit a pattern. We bought an old sheet at the thrift store ( for a buck) for her to use as a practice template for this dress as this pattern is much more than the simple A line and elastic waist skirts she has made in the past, This pattern is a 1989 vintage...can you believe they are now calling that year vintage! I feel old.
First try!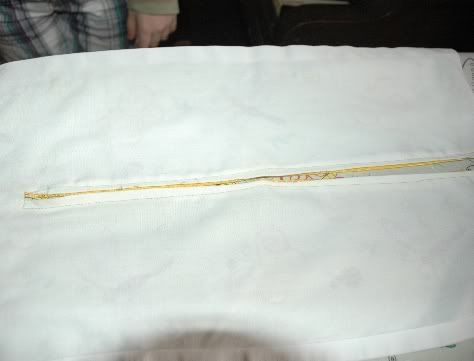 I love this tutorial on how to put a zipper in:
http://sewmamasew.com/blog2/?p=87#comment-210636
We visited our art museum for the first time in a long time. There were of new exhibits to explore and enjoy. We realized we have been away too long! It was like visiting an old friend.
Found this site on first aide and cpr. http://www.firstaidweb.com/ I am going to have both gals work through it. Its very basic.
Dad and his gals
Moms Education Patients while teaching daughter how to put in a zipper! Honestly I remember my experience in home ec and it was aweful. The teacher had me tear out the zipper and redo it 22 times...no kidding! So I try so hard to be helpful and I even tear out for her if she wants.
I got through another chapter in Entering the Presence of God. This portion title is The Results of Failing to Worship. This really spoke to me. The scripture basis for this section is Psalm 95:7 -11
For He is our God,
And we are the people of His pasture,
And the sheep of His hand.

Today, if you will hear His voice:
8 "Do not harden your hearts, as in the rebellion,
As in the day of trial in the wilderness,
9 When your fathers tested Me;
They tried Me, though they saw My work.
10 For forty years I was grieved with that generation,
And said, 'It is a people who go astray in their hearts,
And they do not know My ways.'
11 So I swore in My wrath,
'They shall not enter My rest.' "
Do I listen to hear the voice of God? Do I try God? What has gone astray in my heart? Do I know the ways of the Lord? I wrote volumns on those questions!
Weight Loss Journey: Can we just delete this section? No? Alright I did not reach my goals..( to walk ) and I ate way too much this week. Is there an easy button?
Kitchen Goodies: Busy week. Tried to keep it simple in the kitchen.
Tuna Noodle Casserole This is the recipe we use minus the peas! This casserole is a favorite cold .http://www.campbellkitchen.com/recipedetail.aspx?recipeID=50684
Hamburgers and Hot Dogs,
Pizza, ( we picked up a Pizza Hut as part of our fresh product pick up for the food pantry so you will see at least one pizza a week on here)
Corned Beef, These go on sale often and make a great busy day meal.This is just a the basic crockpot recipe, http://www.a-crock-cook.com/crock-pot-corned-beef-recipe.html We do not add all the cabbage ect. But for those who do not have picky eaters add potatoes, cabbage, carrots, and onions. Just before serving add a can of diced tomatoes. Makes a very hearty stew. Defat the meat before shredding. I usually do this about half way through the cooking process.
Peanut Chili Sauce Meatballs, new to us recipe. I used Stephanies recipe but did not use the paste. Instead used chili powder and soy sauce. http://crockpot365.blogspot.com/2010/03/slow-cooker-meatballs-in-peanut-curry.html I use a basic meatball recipe like this: http://busycooks.about.com/od/groundbeefrecipes/r/easymeatballs.htm It would be easier to use the store bought ones but not cheaper. So make these ahead and freeze so you can be thrifty. Freeze in meal size and appitizer size. There are so many meatball recipes out there! http://allrecipes.com/Recipe/The-Best-Meatballs/Detail.aspx
On the Thrifty Side: Dress Mania! My gals love to buy fancy dresses. They both can often wear the same dress. DD2 found this cute black dress for 9.00. We did not get a good photo of the front of the dress but it has a small ruffel that cascades down one side. The shiny fabric made it really hard to get a detail picture of this dress. It just shows up solid and flat. I know you can't see em but she is wearing red shoes! So cute.
And here is the other dress they got a while back ( with the trunk) Their dad got this one for them. It was a bargan but not on sale at the thriftstore.With the price of fabric we just cannot go wrong buying these once used prom and bridesmaid dresses. Its sort of a hobby of DD2 and she buys most of them with her babysitting money. They will come in handy as we plan to go to the opera this year. ( the problem: which dress will they choose?!)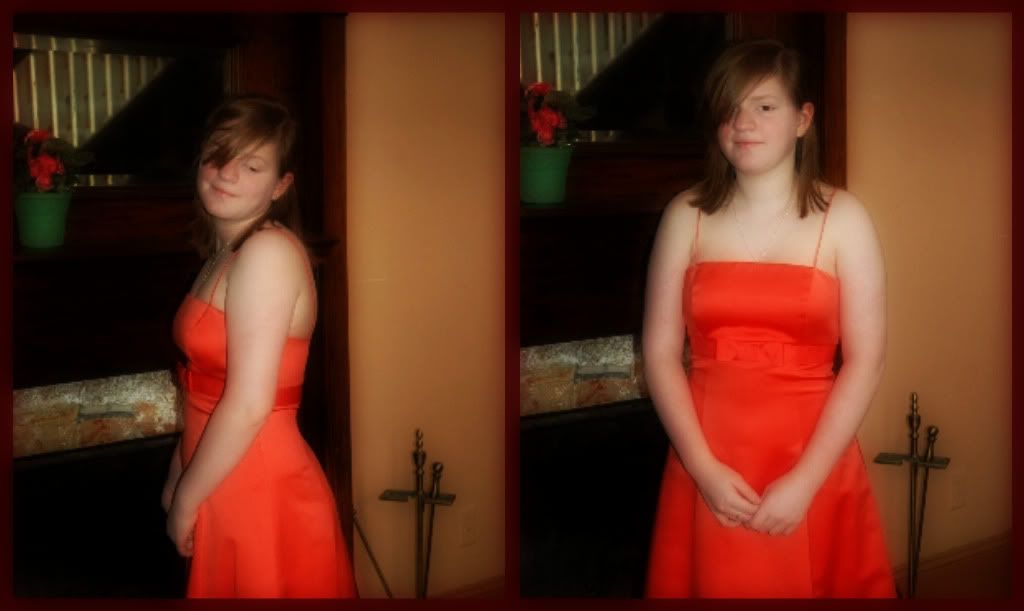 This next dress was a steal for 6.00!!! It has many layers and tons of fabric. ( wrinkled as the gal at the thrift store stuffed it in a bag. Will have to steam it)
And this one....she just had to have it! We spend a very long time in the dressing rooms. Lots of giggling going on! This dress retails for $230.00. She paid 16.00.
We found a Scrabble Dictionary ( hardbound book)! Its really cool. $1.50. This will save time during those epic games! A very old book called Charlotte and Lucy Temple from the 1890s! Hubby found it for 50 cents.And a sewing book: The Bishop Method of Clothing Construction, also for 50 cents. Its from 1959.
I found a pair of pants for 1.98, A shirt for 99 cents, and a suede skirt ( think retro 70s) for a buck, and a purse for 2.00. I never buy new purses for me but I really liked this one! Its small and has lots of pockets, a wallet and a checkbook holder.
Christmas and Birthday Box: Still working on a crochet project. Slower now that spring is here and so many other things command my attention.
Goals for Next Week: Cobwebs! We have tall ceilings and they are hard to see ( the cobwebs) but they are there. Also get to last weeks goals. Just could not fit it in this week.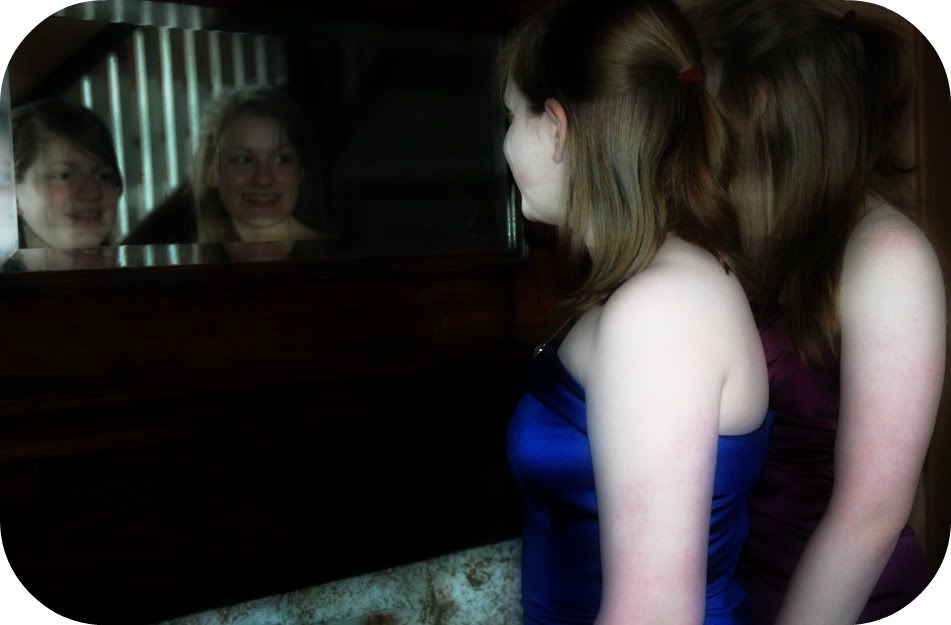 When did they grow up? They use to play dress up so much at kids...some things do not change!
Have a great week!
Give your burdens to the Lord and he will take care of you. He will not permit the Godly to slip and fall.
Psalm 55:22 (NLT