In Our Life This Week
Cleaning cleaning and more cleaning. We have guest from out of town coming today and they will be here all week. We are also painting all the woodwork, stair risers, spindles and more. Amazing what a fresh coat of white paint does!
In Our School This Week
The gals did three math lessons. But life lessons abound. They did an amazing job deep cleaning.

Oldest dd loves to paint and is so good at it. Thankful for her talent.
Places We Are Going and People We are Seeing
Looking forward to a visit from my ds gal friend and her Mom from Ohio.

In a week we will be going peach picking with the whole family north of here in the mountains.

Other than that we are home bodies ( unless one counts trips to the hardware store!)
Whats Working For Us
Time. Summer gives us time to be creative. I love this season for that. We work on projects and actually have time to complete them.
Things I

Am Working On
Well aside from painting woodwork and cleaning…I am working on making a nice outdoor room on our front porch. The old bentwood rocker ( which I love) has come out of the attic to find a new home. We did not have room for it and at Christmas time it went up to the attic. Sad as I love this chair. So I am painting ( gasp) an antique. This was a major step for me! It will look lovely on my porch and be a welcome place to rest.
I am also painting a small old doll clothes cupboard. I got this piece of furniture 25 years ago...it was old then. It is hand made by a father for his daughters doll things ( maybe from the 40s). I bought it because it fit as a bedside table. Through the years each of the kids have had it and now it is a storage unit in our bathroom. I finally decided to loose the blue and go white. ( this kids always fussed when I mentioned changing the color) DD is going to wall paper the inside of it with antique paper we found ( its from the early 70s and yes considered antique now)
DH put up the stars on the fence this week. We bought these stars years ago when we put the fence in. I love the way they add charm and character.
I am still decluttering. This is a task that is overwhelming but becoming easier as I have time to complete a space and see the finished product.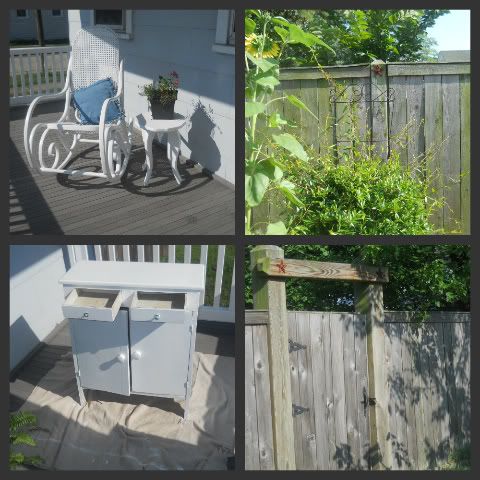 I Am Reading
A wonderful book. I recommend it to all parents of adult children. While I do not agree with all of it there is a lot of wisdom to be gained.
The Power of Praying for Your Adult Children by Stormie Omartian
I Am Cooking
Not much! Honestly my gals have been doing a lot of the cooking. Another perk to there being more time.

I am thankful for their creativity in the kitchen. I do not ask them to cook at this point. They do it because they want to.

So this week we have had:

Meatloaf, Spaghetti, Enchiladas, ( cheese , chicken and beef), Grilled Steak and Mashed Potatoes,

Chicken Salad, And leftovers.
I Am Grateful For: Rain, cool breezes,

ability to work hard, Family
I Am Praying For: Okay don't laugh…more time in the day. I just have so much to get done in this short season of summer.

Use of my time wisely.
Our homemade bench. The stone used for this was deemed "trash". It is the curb stone used on old cobblestone road bed. The roses are getting big fast! They bloom constantly.