Gardening is a great way to save money. The exercise alone is worth the cash saved at the gym! Getting outside and alone with your thoughts great for your mental health. I enjoy fresh cut flowers from my own garden May through the first frost. We enjoy feeding the birds and butterflies all season. Putting your own food up may cost more in the beginning ( equipment) but over time will save you money. Its a great feeling to do your own canning! Its not rocket science. Anyone can learn.
Here is a free ebook on canning and preserving food from Homestead Harvest: http://site.wayzata-homestead-harvest.com/PreservingEbook.pdf
On the same page you can download a free Gardening Journal.
Free Tomatoe Seeds: http://helpgrowyoursoup.com/
More Free Seeds ( plus S and H) http://america-the-beautiful.org/free_seeds/index.php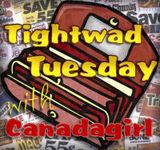 Go visit Mary aka Canadagirl for more tightwad ideas!