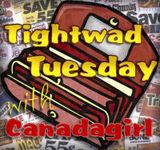 Our library has a book sale every month. Paperbacks are 25 to 50 cents. Hardbounds are $1.00. We really enjoy going to these book sales. This month we got all these books for $11.00. The art books ( four of them ) alone are worth $217.00 brand new. Dd 1 got 3 books on architecture, Dd 2 got one very nice book on China and four very large art books. Hubby even got a book on trains. We also found three novels.
Several of the books we purchased are books we regularly check out for school so this was a real find!
One of our libraries also host an ongoing book swap...take a book leave a book. This is free! So check with your library and see if they have similar programs.