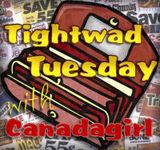 This weekend we went to a yard sale in our neighborhood. I had $2.00...not much for a yard sale. The gals had more on hand so we stopped to take a look. The gals faired well with great jewerly finds and two cute dresses.
I found a box of dishes. One item caught my eye. It was labled .75 cents!
I took it up to the lady in charge and she said it was .75 cents for all the dishes in that box.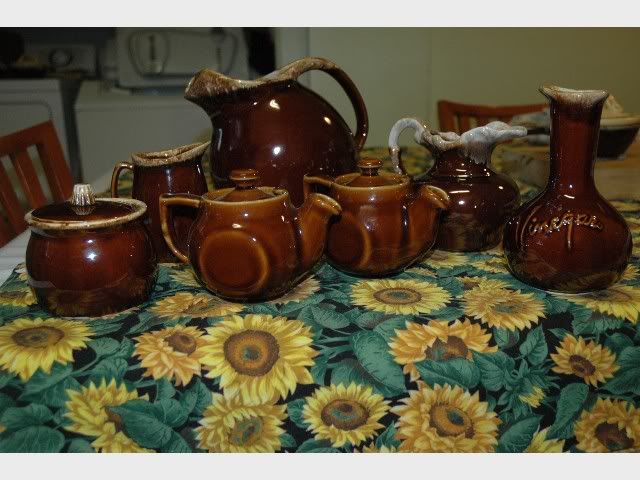 Four of the items in the above photo are HULL brand pottery and worth a whole lot more than the fraction of the .75 cents each I paid for them. I got them because I love them...I have no intention of selling them for what they are really worth.
Here is my second favorite piece. It bears no mark and looks ot be a HULL copy cat. Anyone know anything about this piece?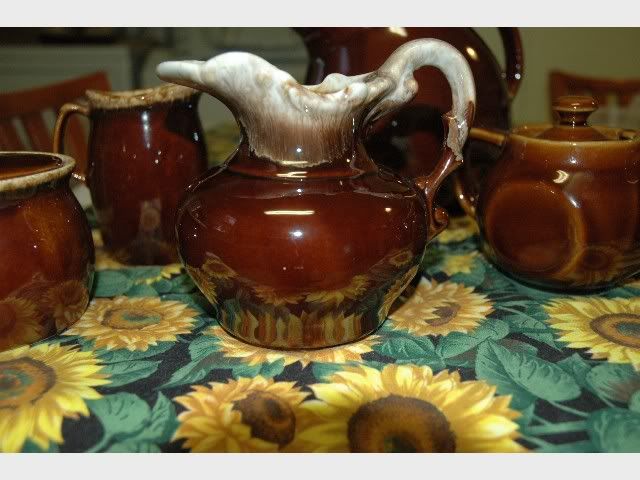 And these cuties are just for fun. They have no mark. Anyone know anything about them?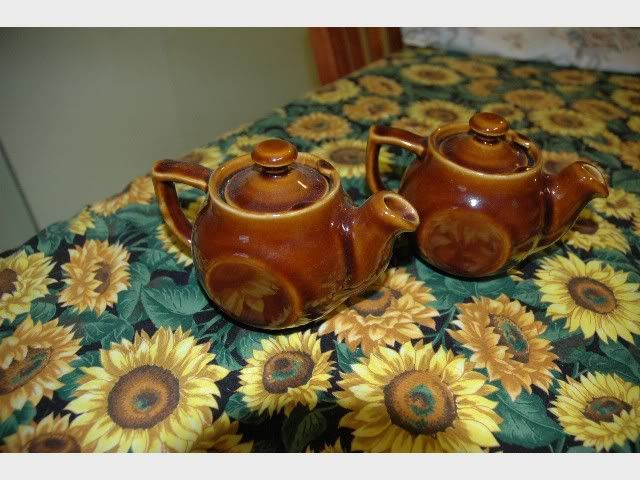 I found four of these individual "pots" with lids for $1.00. They seem to have the wrong lids. However the lids fit perfectly. Lids are marked Treasure Craft, Pots are marked USA with a Maple Leaf. Anyone have a clue?
The pots appear to be another HULL look alike but not the lids. The lids are clearly Treasure Craft in style and mark.
I also found a christmas table cloth for .75 cents ( borrowed a quarter from my kids!) So for 2.25 I think I did really well! All of the dishes are in fabulous condition with no cracks , chips or glazing. Amazing considering how they were stored in the box.

Sometimes treasures are found in everyday things. When looking for a craft I saw at our museum gift store ( so we could do it ourselves) I came across this really cool site. Dollar Store Crafts. http://dollarstorecrafts.com/ There are lots of crafts using things we normally would toss..like soda bottle coin purse. Its cute!

And here is another cool site!!!! http://craftstew.com/category/recycled-crafts Ideas like making a clock out of a book and much more. Fun stuff!!!

As for the craft I was really looking for? Here it is! http://notbeige.wordpress.com/2009/05/06/repurpose-old-magazines-into-a-magazine-reed-box/ Our museum was selling small picture frames using this technique for $25.00 each. I have tons of old magazines ( and the library has a free magazine box) We think these will make a nice gift.

Chayote??? Ever heard of it?

We do the fresh food pick up for two stores as part of the food pantry. In todays pick up there was a Chayote. Interesting looking fruit/veggie. ( it grows on a vine is classed a veggie but smells like a pear!) If I had more of them I would cook it up and give it a try. Check out the link below.

http://davesgarden.com/guides/pf/go/79336/

Now I may try sprouting it. This looks doable. Maybe I will get a free house plant out of this silly looking veggie/fruit!?http://www.laughingduckgardens.com/ldblog.php/2009/01/09/starting-chayote-in-virginia/