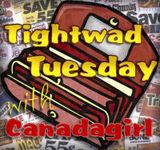 Saving on Fabric Softner Sheets: I put the sheet in during the cool down cycle of the dryer. Then I remove it when the load is done and reuse. I get about 7 loads out of a dryer sheet this way.
Out of dryer sheets? Add 1/4 cup baking soda to the wash cycle and add 1 C. white vinegar to your laundry's rinse cycle.
Stains:Rub liquid dish soap into stains. My kids know this one well and grab the dawn dish soap as soon as they get something on their clothes. Rub it in well on the spot and leave it on a while. Then wash as usual.
Soak stained clothing in a small bowl of hydrogen peroxide (this works best on whites and light fabrics).
Other Laundry Tips that save money:
Use cold water! Do not use hot water unless the clothes are greasy. ( and then only set it for the wash cycle not the rinse cycle)
Presoak soiled clothing.
Make sure your machine is full. ( do one instead of two loads)
Spin clothes out a second time to reduce drying time. This really helps with heavy loads like jeans, towels and blankets.
Clean dryer filter after each load and chech the dryer exhaust monthly.
Wash and dry at non peak times. The rates are cheaper. Its called Time of Use Rate or TOU. You can look up the TOU for your area. It can save you as much as 18,609cents per kilowatt hour. You generally have to sign up for this and some areas do not offer this.
We do not hang our clothes out due to mold, mildew spores, lots of bird stuff and high humidy. ( allergies) Hanging your clothes outside is a huge savings though.