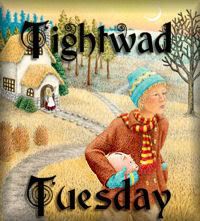 What to do with all the leftover candycanes? Make French Ice Cream of course! This recipe was found in a 1924 Fruit and Flower Mission Cookbook from Seattle Washington. ( its in my collection of old books) I love the book as it has old adds from that time period and bits of history throughout. Seattle was my hometown growing up.
French Ice Cream
1lb of peppermint candy
1 quart of milk
1 pint of whipping cream
Soak candy several hours in the milk, or until dissolved. Add one pint of cream and freeze.
Perhaps this is not tightwadish...but each year when we put the christmas decorations away we usually have a bunch of candy canes to do something with. ( cannot put them in the attic with the decorations!) Also candy canes are very cheap right now.